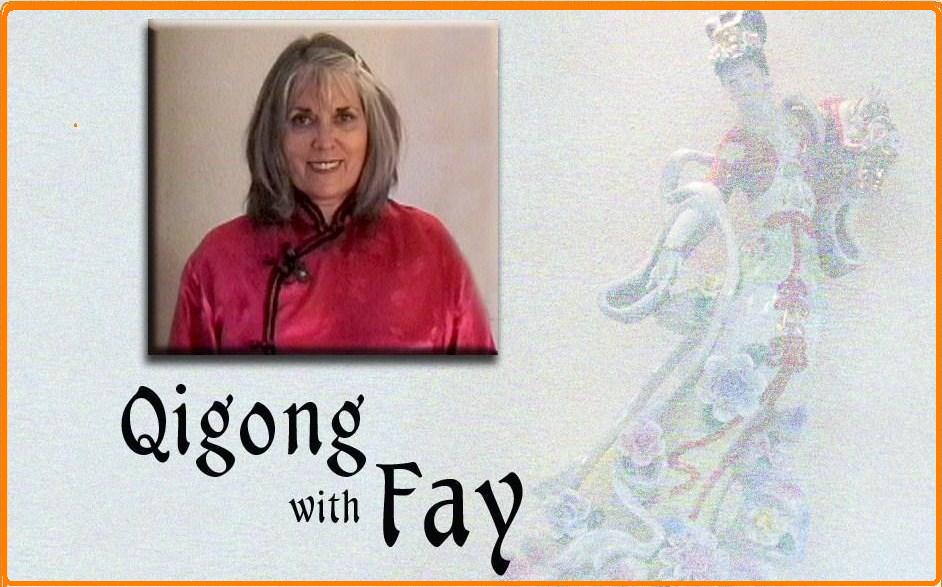 "If you want to be healthy and live to 100, do Qigong"
Mehmet Oz, M.D, host Dr. Oz Show, Director of Integrative Medicine at Columbia-Presbyterian Hospital
& author of best seller YOU: The Owner's Manual: An Insider's Guide to the Body that Will Make You Healthier and Younger.
Qigong is Transformational Body Relaxation
Qigong. "vital energy cultivation" [pronounced chee-gong] is an ancient health practice clinically proven by modern science
to support your body's natural healing abilities & improve overall well being.
· Deep relaxation techniques
· Mental cultivation
· Gentle easy to follow exercises (standing and/or seated in a chair)
· Clinically proven effectiveness
San Diego & North County, California
Fay McGrew, M.A., Q.T.P. (Medical Qigong), Certified Teacher 19 years teaching Qigong in San Diego
---
updated 3/2/14
March & April 2014
Mar. 3 - Six Healing Sounds 4 part series begins @ Hidden Pine Studio Carlsbad
Mar. 8 & 9 - Natural Healing with Qigong Workshop
led by Eva Lew, MD & Master Frank Chan - San Diego Convention Center
Mar. 22 - Spring Intensive @ Hidden Pine Studio, Carlsbad
Mar. 19 - FREE Spring Equinox Meditation & Healing Circle
April 5 - Advancing Qigong & Tai Chi, Encinitas @ San Dieguito Adult School
April 12 - Six Healing Sounds - Five Element Theory Workshop @ Hidden Pine Studio, Carlsbad
April 21 - FREE Intro to Jade Egg & Jade Woman Qigong
Revised New Date April 22 - FREE Intro Class - Live Long Do Qigong! @ UCSD - Center for Integrative Medicine - Downtown
April 28 - Jade Woman Qigong 4 part series begins @ Hidden Pine Studio Carlsbad
New Date May 3 - Jade Woman Qigong Workshop @ Hidden Pine Studio, Carlsbad
---
For Info Email or call 760-729-1102
New article interviewing Fay about her Qigong classes at Naval Medical Center San Diego Vets Take Deep Breaths - California Health Report | California Health Report
See Fay's article on Yin Qigong in October 2010 issue of Light(Life) Connection
click here to see San Diego Union Tribune Local News Today 7/16/08 article about Fay & Qigong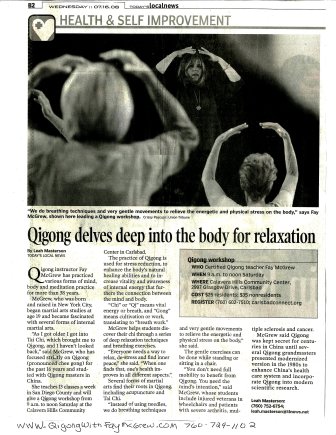 ---
| | | | | | |
| --- | --- | --- | --- | --- | --- |
| Jan - Feb 2014 Newsletter | | | | | |
| | | | | | |